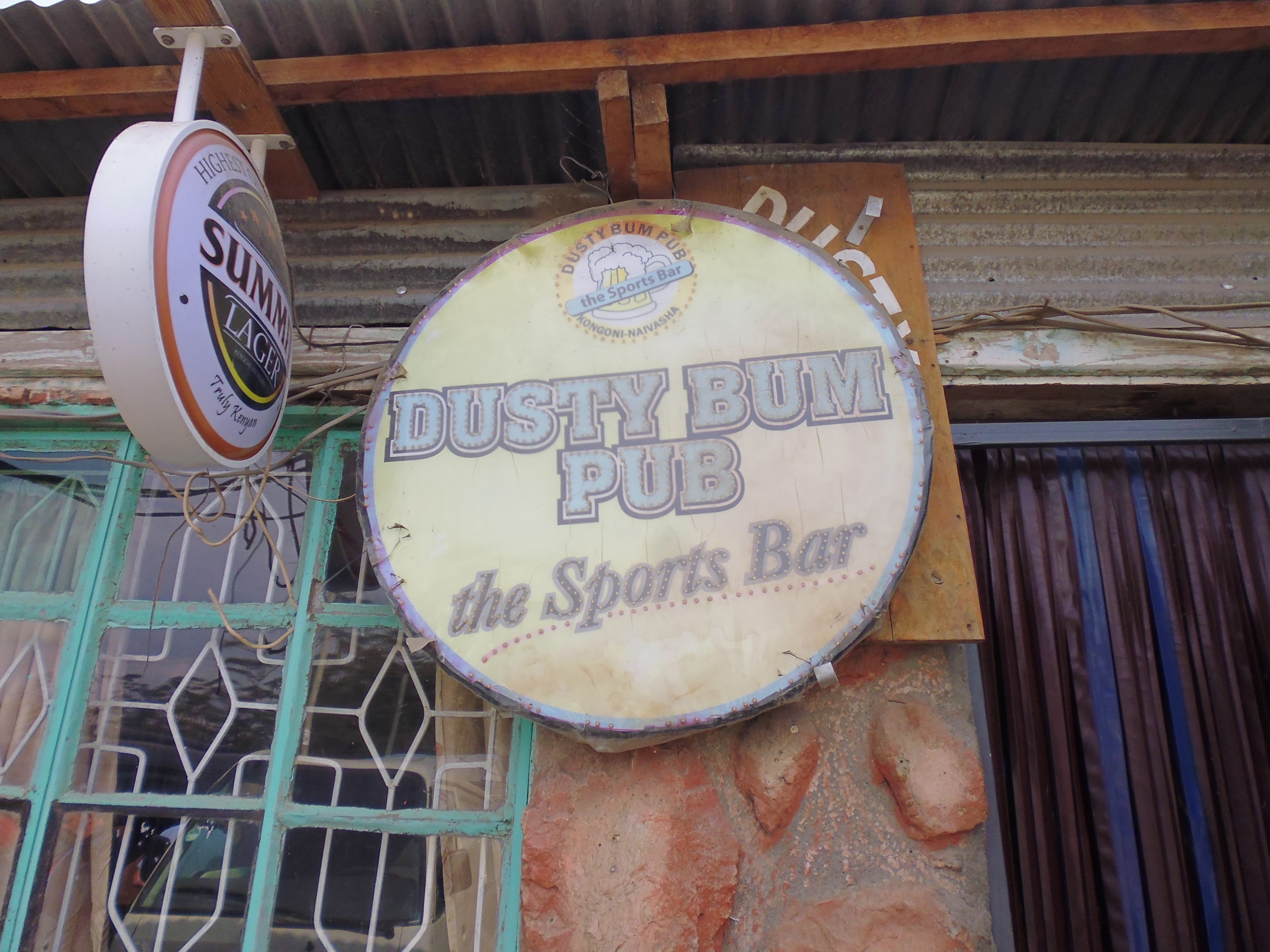 It was the name that first grabbed our attention!  
We were in Lake Naivasha for a couple of days of cycling safari, gorge hiking and hippo/wildlife viewing.   With the van laden with my guests, we were on our way to Lake Olo dien  (Little Lake),  a 15 minute scenic drive from our lakefront camp,  where we would hop into little boats and putter out onto the lake for up close 'n personal encounters with hippo, pelican and other beautiful wild animals and birds.
As we passed through a tiny local dusty village I think many of us spotted the sign at the same time – a little shop front, with a colourful plastic strip curtain fluttering in the doorway and a huge round sign displaying "The Dusty Bum Pub".    We all cackled at the name, and unanimously decided it was a definite stop off point on our way back to the camp.
So once we'd finished our amazing boat ride on the lake,  full of excitement at the sights we'd just seen, we bundled back into the van to head back towards camp, and of course a stop off at The Dusty Bum.
Hidden through the curtain strips in the doorway, was a very cute little bar with a fantastic tree trunk sprouting through the floor boards and up through the roof, and the familiar smell of beer; just like the pubs back home.   It was only small but had a very awesome authentically local interior.  Tables and chairs with stuffing spewing out of them were scattered about; the tables covered with colourful heavy plastic table cloths that screamed out "Tusker" (the local Kenyan beer) boldly sign written all over them. The walls were lined with an eclectic mix of African animal print, favourite football teams and all sorts of art and posters.  There was a very small bar set up in the corner displaying a minimal variety of different alcoholic drinks,  and chateau cardboard wine casks.   The counter was encased in a bamboo grille, and on two of the four walls, TV's were mounted, each belting out at the same high pitched volume, but playing different channels.  On one TV the latest R & B MTV hits were screeching, and on the other TV,  a more sedate, but equally as loud,  world cup qualifier football game was underway, and just to add even more excitement to my guests, it just so happened to be New Zealand v Uruguay.  Incidentally all my guests on the tour were Kiwis so that was pretty cool.
One of the key elements of my Helping Hand African Tours & Safaris are the local experiences, so I  had already made up my mind as soon as we stepped inside that tiny bar, that The Dusty Bum Pub was a 'must visit' on my tours, and so it remains!
The cool aspects of visiting a very local establishment such as The Dusty Bum Pub are the gorgeous local people who we have a fantastic time chatting and mingling with, and also the very enjoyable local bar prices!   It's wonderful, we can have a great time boogying to the music on one wall, while keeping a slight eye on the footy on the other wall.   Even sitting outside the front of the pub to grab a breath of fresh air is awesome because chatting with the local passers-by adds yet another unique authentic experience.